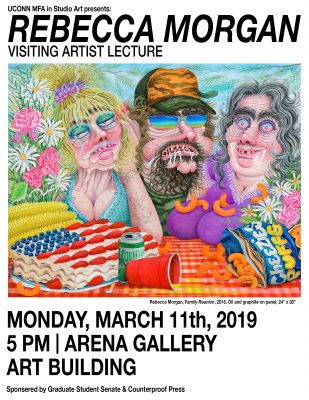 Born in central Pennsylvania, Rebecca Morgan works in painting, drawing, and ceramics that subvert stereotypes of Appalachia. Imbued with folk tradition and a sly sense of humor, her work peels apart the simultaneous reverence and disgust for rural people. Stylistically, Morgan embraces the hyper-detailed naturalism of Dutch masters, as well as absurd, repulsive caricature suggestive of underground cartoonists like R. Crumb. Although they often contain modern clues, her characters and scenes evoke a romanticized, nostalgic America, nonexistent but wistfully recalled, much like Norman Rockwell's illustrations. Morgan's works question what such images were selling in their conception, and she gives her archetypal maids, hillbillies, and dandies the space to explore contemporary issues of women reclaiming their subjectivity, a pop-cultural false sense of romance, and ideas about masculinity, power, escapism, and hedonistic backwoods pleasure.
Rebecca Morgan received a BA from Bloomsburg University of Pennsylvania and her MFA from Pratt Institute, NY. Press for her work includes The New York Times, Time Out New York, ARTnews, Whitehot Magazine, Beautiful Decay, Artslant, Juxtapoz Magazine, The Huffington Post, Paper Magazine, Hyperallergic, and Berlin's Lodown Magazine. She is the recipient of residencies at the John Michael Kohler Arts Center, the Bemis Center for Contemporary Arts, The Watershed Center for Ceramic Arts Residency, a Vermont Studio Center full fellowship, and the George Rickey Residency at Yaddo, among others. Morgan has exhibited widely in the United States and abroad, with recent exhibitions at The Vancouver Art Gallery, Canada, The Hole, NY, MRS Gallery, NY, Marinaro Gallery, NY, Hashimoto Contemporary, CA, Woodstock Byrdcliffe Guild, NY, Fisher Parrish Gallery, NY, Woskob Family Gallery at Penn State, PA, Knoll Galerie, Austria, Richard Heller Gallery, CA, Children's Museum of Art, NY, and SPRING/BREAK art fair, New York, NY.
https://rebeccamorganart.com/home.html
Rebecca Morgan's visit was supported by GSS and Counterproof Press.
---