Counterproof Press once again teamed with the Wallace Stevens Poetry Program and the UConn Design Center to produce the 2019 broadside of Rankine's poem, Don't Let Me Be Lonely.  Student, Lynn Tran is seen printing the edition below.  To view the final product, please visit Our Work section.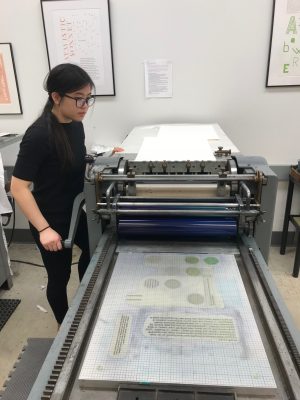 Claudia Rankine, a 2016 MacArthur Fellow, is the author of five collections of poetry including Don't Let Me Be Lonely (Graywolf 2008) and the bestselling Citizen: An American Lyric (Graywolf 2014), which uses poetry, essay, cultural criticism, and visual images, to explore what it means to be an American citizen in a "post-racial" society. A defining text for our time, Citizen was the winner of the 2015 Forward Prize for Best Collection, the National Book Critics Circle Award for Poetry, the NAACP Image Award, the PEN Open Book Award, and the LA Times Book Award for poetry. 
In all her work, whether writing about intimacy or alienation, Rankine's voice is typified by intensity and candor. Her poetry is both innovative and thoughtful, often crossing genres as it tracks startling yet precise leaps of the mind. As the Judges Citation for the Jackson Prize notes, "The moral vision of Claudia Rankine's poetry is astounding. In a body of work that pushes the boundaries of the contemporary lyric, Rankine has managed to make space for meditation and vigorous debate upon some of the most relevant and troubling social themes of the 20th and 21st centuries…. These poems do the work of art of the highest order—teaching, chastening, changing, astounding, and humanizing the reader." Among her numerous awards and honors, Rankine is the recipient of the Poets & Writers' Jackson Poetry Prize and fellowships from the Lannan Foundation and the National Endowment of the Arts.