LONG RIVER REVIEW / PRINT INSERT PROJECT
Letterpress prints, three untitled 8.5 x 5 fine art prints inserted into the 2017 Long River Review publication.  The inserts were designed by Design Center and published by Counterproof.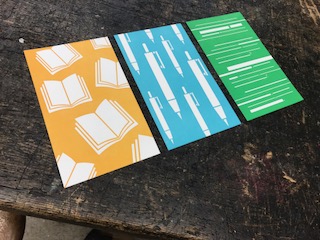 ITHAKA IMPRINTS / LETTERPRESS BOOKLET

We hosted a year-long collaboration with "Ithaka Imprints," a project initiated by graduate student poet Brian Sneeden from the English Department and Program in Literary Translation.  Sneeden provided his translation of a poem by Greek author Phoebe Giannisi. MFA artist Jelena Prljevic provided artwork to accompany the translation, which was then printed a letterpress booklet in an edition of 100.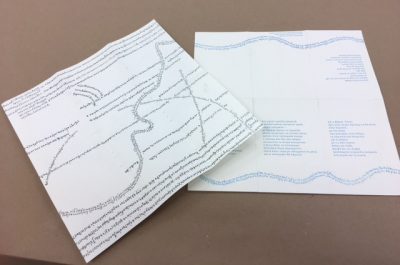 MICHAEL LEVINE / VISITING ARTIST AND PRINT PROJECT

Counterproof Press hosted artist and UConn alumni, Michael Levine, to create a limited edition fine art print.  Levine created two letterpress print editions and gave a public lecture on the evolution of his work.
A.E. STALLINGS / WALLACE STEVENS POETRY PROGRAM

While funded by the Creative Writing Program in CLAS, the visit by renowned poet, A.E. Stallings, involved student participation from both the English department and the department of Art History. Events revolved around the design and printing of a broadside of an A.E. Stalling poem.  The broadside was published by CPP in an edition of 100.  Students attended the large, public poetry reading and were able to interact with Stallings before and after the lecture. 185+ attended the event.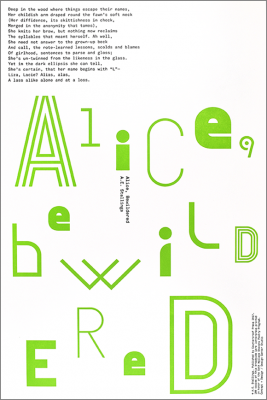 MICHAEL MENCHACA & SUZY GONZALEZ / VISITING ARTIST RESIDENCY
Counterproof Press hosted visiting artists Suzy Gonzalez and Michael Menchaca for a residency in January to create a limited, fine art print edition of 35. The artists gave graduate critiques and a presentation open to the public that numbered 65+ attendees. Their work was exhibited at the Contemporary Art Galleries. Menchaca and Gonzalez exhibited existing artwork as well as on-site wall paintings that they completed while in residency.